When is the 2022 Red Snapper Season in the Gulf of Mexico? – June 1st, 2022 to August 18, 2022
On April 25, 2022 NOAA Fisheries announced the 2022 Red Snapper season for federally permitted charter for-hire vessels. The 2022 Red Snapper season will officially begin at 12:01 am on June 1, 2022 and will close at 12:01 am on August 19, 2022.
Cool, so what does this actually mean?
The first day to go fishing for red snapper in the Gulf of Mexico for 2022… June 1st.

The last day to go fishing for red snapper in the Gulf of Mexico for 2022… August 18th.
The significance of the 12:01 am is to specifically distinguish the opening and closing of the season for law enforcement purposes. But since most people aren't concerned about fishing for red snapper in the dark around midnight in the Gulf of Mexico, these season announcements can be a bit confusing.
A fishing trip on the night of August 18th, planning to bring back red snapper…better be back before midnight!!!
Who does this season apply to?
This season applies to people fishing aboard charter boats with permits to fish in federal waters (9 miles from shore in Texas).
What type of trip should you book to catch red snapper?
In Galveston, a good rule of thumb for booking a red snapper fishing trip is finding a 6 hour or more option. A longer trip might be preferable when considering departure location, angler experience, and or a customer's desire to fish for other species.
What about red snapper fishing for private anglers?
The private angler component of the Gulf of Mexico red snapper fishery is cooperatively managed by state and federal authorities to allow for regional management. This allows each state to manage the season for red snapper off their respective coastline.
These seasons can vary and may require catch reporting through a state specific app prior to completing a fishing trip. These additional management measures are in place to understand what is being caught by anglers and efficiently manage the season without catching too many fish and damaging the long term sustainability of the fishery. For more information about requirements for private anglers visit: https://bit.ly/3kDadSW
Don't miss out on the action! Book your red snapper trip now. Space is filling up!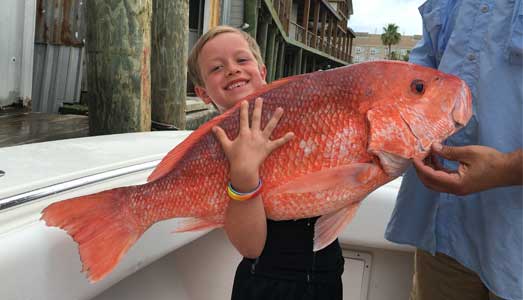 A special trip fishing offshore for huge Red Snapper!