Approximately 3 million people go fishing in the Gulf of Mexico every year. The Gulf is one of the most ecologically diverse bodies of water, offering first-time fishers and expert anglers alike the chance to see sharks, dolphins, sea turtles, and more.
Not every specimen you catch will be edible, but each one is guaranteed to be interesting. There's no such thing as a bad fishing spot on the Gulf Coast.
Types of Fishing Trips
There are many different fishing trips available during your time in the Gulf of Mexico. From deep sea fishing for Spanish Mackerel to Bay & Jetty fishing with your family or friends, here are some of the different fishing trips you can look forward to on your visit to the Gulf coast:
Deep Sea Fishing: During your deep sea fishing trip, you can typically expect some combination of bottom fishing, trolling, drift fishing, and jigging from 10 to 100 miles from shore. This gives you the opportunity to experience a wide variety of fish species during your trip. Due to weather conditions, some days you may be limited to trolling and bottom fishing, but these methods actually yield a good amount of fish. Some of the most common types of fish you can expect to see when deep sea or offshore fishing trip in gulf waters include King Mackerel, Spanish Mackerel, Tripletail, Dorado, Cobia (Ling), Sharks, Jack Crevalle, Sailfish, and Wahoo. Some of the best places for a deep sea fishing trip are in Galveston, Texas and Destin, Florida. 
Bay & Jetty Fishing: Bay & Jetty fishing trips are a great way to spend time with your family, especially if you have young children. These trips offer the chance to catch a wide variety of fish species while also letting you see dolphins and maybe even a shark or two. During Bay & Jetty fishing trips, you'll try a combination of light tackle and bottom fishing. You can also use both live and dead bait. Bay & Jetty fishing trips are popular year-round. Some of the most common types of fish you can expect to see include Sheepshead, white trout, Red Drum (Redfish), Speckled Trout, Black Drum, Sharks, Flounder, Whiting, Pompano, Spanish Mackerel, and more. The most comprehensive habitat for jetty fishing is in Galveston, Texas…. home to potentially the largest jetty complex in the world. 
Shark Fishing: Shark fishing is best between May and September on the Gulf coast, when the waters are warmer. During this time, sharks are the most abundant and plentiful along the beachfront and nearshore waters of Galveston. Sharks can be caught with different types of baits including live and dead baits. You can also use drifting or bottom fishing. They can be fun to catch, especially because sharks are hard fighters. This trip is best for catch-and-release anglers looking for a big fish fight. Some sharks are allowed to be kept as long as they're legal and you plan to eat them, not waste them.
There are many different fishing trips you can enjoy in the Gulf of Mexico. But what types of fish can you find in the Gulf?
What Kind of Fish Can You Expect?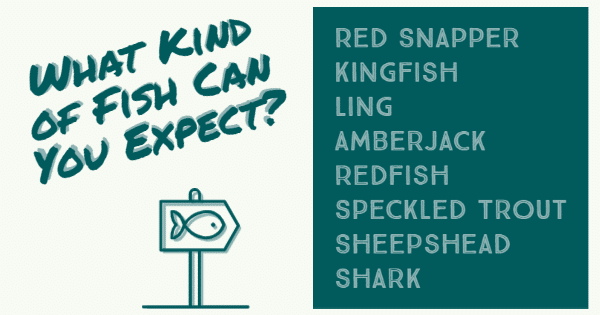 Local fishing guides will tell you that there are hundreds of different species you can look for while fishing in the Gulf of Mexico. They may not all be hungry on your trip, but there's always a great surprise that could be waiting for you on your next trip! Whether you plan to catch-and-release or catch-and-eat, here are some of the most common types of fish you can expect to see:
Red Snapper: This is one of the most sought-after fish in the Gulf. Red Snappers can range anywhere from 3 lbs to 30 lbs and are typically found in waters between 50 to 300 ft. Red Snappers are most commonly found around a variety of bottom structurEs and artificial reefs, but regulations do set a limit of fish caught per person to protect the population and ensure future generations can enjoy a great fishing experience for them as well. 
Kingfish: Also known as King Mackerel, Kingfish can range anywhere between 1 lb to 60 lbs and put up an incredible fight with a big mouth full of sharp teeth. Kingfish are typically caught between April and November as they make their annual migration. Anglers can use a variety of dead baits, typically whole fish and also artificial lures to catch them. Regulation limits each person to three Kingfish.
Ling: Also known as Cobia, Ling are big fish that typically weigh from 20 lbs to 50 lbs, although some fish have been known to grow up to 100 lbs. The best season to catch Ling is between April and September. They're brown or dark gray and are best found under platforms, buoys, and anchored shrimp boats. They can be baited with mullet, cigar minnows, crabs, live pinfish, shrimp, squid, and dead fish.
Amberjack: These fish can weigh anywhere between 30 lbs to 50 lbs but can sometimes weigh up to 100 lbs. They're one of the hardest fighting fish you'll catch because they're very strong. These fish are often found on reefs that range between 60 ft to 400 ft deep. They can be caught using live bait and are typically caught on a longer deep sea fishing trip, most often for 12 hour trips. 
Redfish: Also known as Red Drum, Redfish have a bronze or reddish color with a white underside. They can range anywhere between 10 lbs to 30 lbs but have been known to get up to 50 lbs at their heaviest. They can be found along grassy shorelines, rocky shorelines, shallow flats and jettiesas well. They feed on shrimp, crabs, and other live baitfish.
Speckled Trout: These fish are typically caught throughout the bay and can be difficult to find as they follow baitfish and prefer slightly lower salinity waters. Part of the drum family, they're a popular fish to catch and typically range between 3 lbs to 15 lbs in weight. They range between 19 inches to 32 inches in length.
Sheepshead: Also known as the Convict Fish or Bay Snapper, the Sheepshead has black vertical bands and protruding teeth just like a sheep. This fish has strong and heavy fins, which make them hard to catch despite their small size. The average Sheepshead weighs less than 4 lbs. They live on shellfish, shrimp, and small crabs and can be found in rocky areas ain't jetties and bulkheads.
Shark: Sharks are the largest species of fish you can expect to catch during your fishing trip in the Gulf of Mexico. Some of the most common types of sharks you can catch include Blacktips, Spinners, and Sandbars. Tiger and Bull sharks are also occasionally caught by anglers as well. However, many of these sharks can't be kept and are meant for catch-and-release trips. The size of the average shark caught in this area measures between 4 ft and 7 ft with an average weight of over 100 lbs.
The Gulf of Mexico is a great place for first-timers and experienced anglers alike to fish for interesting specimens. Whether you're fishing with your family or as a part of a corporate getaway, consider making your next adventure a fishing trip along the Gulf this year.