Galveston Fishing Throughout the Year: What You Need to Know
When is the best time to go fishing in Galveston? Whenever you can. Getting out on the water is a great way to experience the outdoors while enjoying time with friends and family. There's nothing better than the memory of catching a fish you've had your heart set on.
But how do you know when to visit Galveston to catch the fish of a lifetime? After all, certain fish are more active at specific times of the year, and there are always some factors that are out of your control that can keep you from making the most of your fishing trip like unpredictable weather.
With this guide, we hope to help you find the best time of year to catch the fish you're looking for on your next Galveston fishing trip.
Summer Fishing in Galveston
Throughout the year, Galveston is home to some of the best fishing in the Gulf of Mexico for both inshore and offshore fishing, as well as shark fishing, too! Summer is the most popular time of year for fishing in the Gulf of Mexico.
There's a good reason for that.
Summer offers a wide range of species inshore, and is also the best time of year for deep sea trips. Red Snapper, King Mackerel, and more await you during your next offshore trip in June and July. These fish are often caught on the half day deep sea trips or red snapper special trips. The best opportunity for catching a trophy-sized fish (over 15 lbs) red snapper, is probably going to be on a longer trip or a little further offshore than the half day deep sea trip.
The most action and excitement for most people is the half day deep sea fishing trip in Galveston. Despite the excitement of red snapper fishing, late summer and early fall offer the greatest experience for some of the hardest fighting fish in the Gulf of Mexico: Amberjack! These fish are only available on a Bluewater safari 12 hr trip, but are absolutely worth the time. Often, these fish are over 50 pounds and provide an incredible challenge to catch for anyone at any skill level.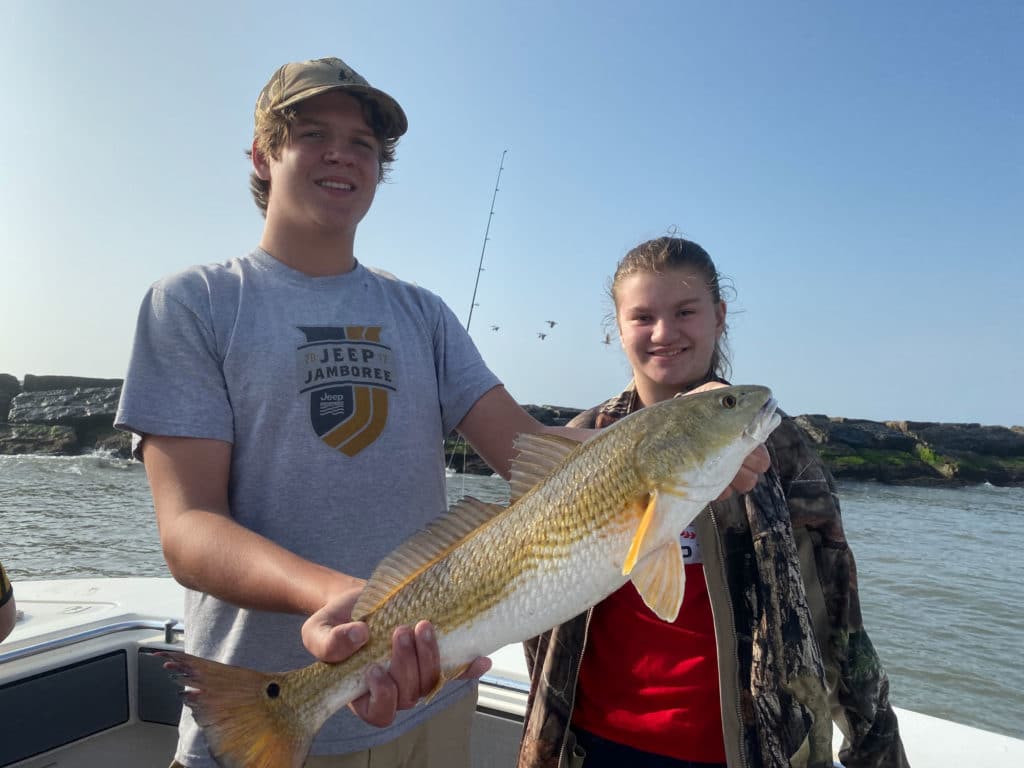 Fall Fishing in Galveston
Once the heat of summer begins to subside, the offshore fishing fades a little while the inshore fishing gets really good for bull redfish! These fish aren't far from shore and are often caught in good numbers on a bay/jetty fishing trip. The hard fighting, photo worthy big red drum are a prized catch anywhere, but are easily found in the beautiful weather when fishing during the fall in Galveston Island!
The weather at this time can be hit or miss, but redfish are often indifferent to the conditions. Similar to the bull redfish are flounder! The flounder is a Galveston fishing guide favorite, and they're delicious, too. The pursuit of flounder isn't particularly exciting for many people, but they're simple and don't put up the fight of an Amberjack. Additionally, flounder is one of the most delicious and sought after fish among anglers. You can relax and explore areas around Galveston that don't typically look "fishy," and still get some great rewards in time for dinner.
Winter Fishing in Galveston
The winter months are certainly the most challenging time of year for fishing in Galveston, but not because of the fish. The fish are plentiful and hungry during the winter in the Gulf of Mexico. The true challenge of winter fishing in Galveston is the unpredictable and often windy weather! Routine cold fronts and shifting temperatures pose a challenge out of our control.
Redfish, flounder, and sheepshead can be caught inshore while mixed reef fish and wahoo can be caught offshore when the weather cooperates. Between passing cold fronts, there is often a short window of time with mild weather and light winds. When the elements align, fishing is often at its best during the winter, but you have to be patient and flexible when the time arrives.
Spring Fishing in Galveston
Last, but not least, springtime possibly offers the easiest and best fishing opportunity for everyone in Galveston. As the weather warms up coming out of winter, Galveston is home to one of the most abundant populations of sheepshead anywhere in the Gulf of Mexico. These funny-looking fish are often quite misunderstood. They have black and white stripes and a set of teeth that look much like human teeth. 
Sheepshead are often difficult to clean, too, but for those willing to accept the challenge, the reward is a deliciously flaky and mild filet that lends itself well to blackening, grilling, ceviche, and almost any preparation method.
To top off the great sheepshead fishing through the spring is the opportunity to catch "the big ugly". Giant black drum are often swimming around while catching sheepshead, too. These fish are not edible once they reach larger sizes, but are such a fun fight and make for a great photo. After catching one, you'll understand why they've earned such a nickname. Join us for a spring fishing trip in Galveston and come see what for yourself!
So, when is the best time to go fishing in Galveston? Whenever you're ready! With this guide, you'll hopefully be able to increase your chances to catch the fish of a lifetime and make some awesome memories along the way.